TODAY
I am going to tell you a true, inspiring story.  Picture yourself in a small tribal village close to the Mountain valley of Niyamgiri in Odisha.  It is a far-flung village deep inside the forests of south-western Odisha.  A total of 29 households make up the composition of this village – the majority of them are tribals (24) and 5 households belong to the schedules caste. 
Their primary source of income is from agriculture.  Yet it is a difficult proposition as due to perennial shortage of water, they can grow mainly a single kharif crop like paddy or some arahar dal or ragi.  Therefore part of their livelihood is also met by wages doing daily labour.
Water, which we in the towns and cities use indiscriminately, is a major source of worry.  They are dependant on a small river nearby for their daily consumption and household needs.  Unfortunately this source dries up in summer and can be of help only for a few months in a year. Who is affected the most by this fact?  The villagers go through severe health problems which affect not only their livelihood but also the quality of their lives.  In such a scenario, the women bear the brunt of the suffering.  Fetching water becomes an important task for which they often have to get up at 4 am. After a full day's work in the fields, they again have to trudge to the river to bring water.
In such a bleak scenario, enteredthe Harsha Trust, a not-for-profit organization that works with the tribal and the poor in remote locations of Orissa, aiming to bring in human development in challenging conditions. Professionals from Harsha Trust visited the village in October 2014 and at once identified this problem and met frequently with the community to deliberate on the possible solutions.  Now this was not the first time a meeting such as this was being held in the village.  Similar meetings had been conducted earlier by various government departments: they came, they spoke, they promised…nothing concrete happened.  The hopes of the villagers were crushed. Therefore you can well imagine the reception the Harsha Trust got!
Luckily, one of the village elders, Mr Srima Praska, showed interest and managed to persuade his fellow villagers to give them a chance. So Harsha Trust arranged for a field trip to Kumbharapada village in May 2015.  This village had installed a drinking water model with facilities for  irrigation with the help of a solar pump from a deep borewell.  Impressed by what they saw, the village Self Help Group (SHG) members held a meeting to dwell on the details and to see if this could be replicated in their own village.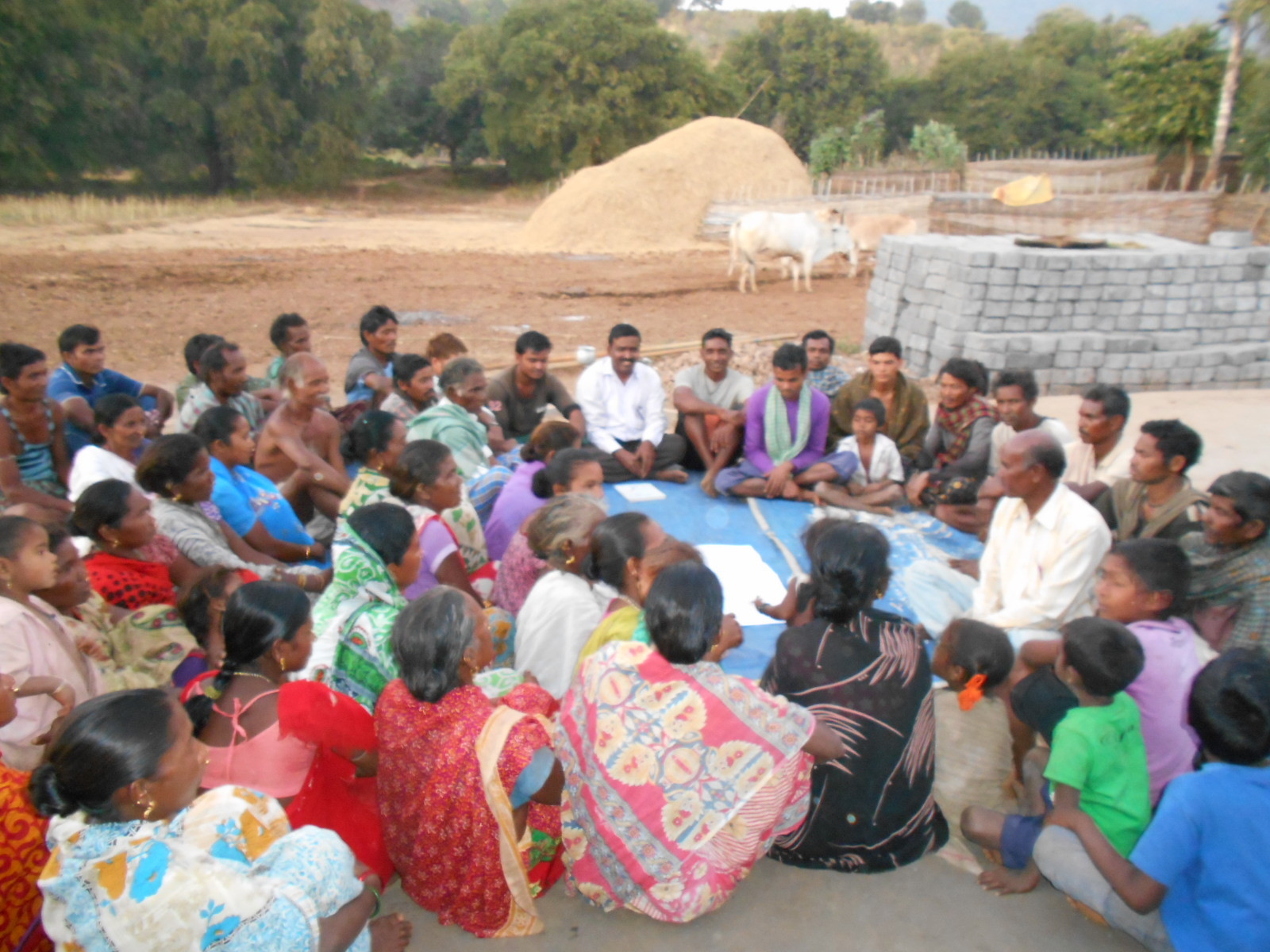 After a few rounds of discussions, the community was motivated and then started the finetuning of the project.  A corpus fund of Rs 1000/- was collected from each household. This total of 29,000/- was earmarked for the work which began in June 2015.  A borewell was dug.  Just by digging 245 feet, about 2 inch of water got discharged.  Happy at this outcome, the villagers decided to construct an overhead drinking water tank in the plot of Mr Ghasiram Praska.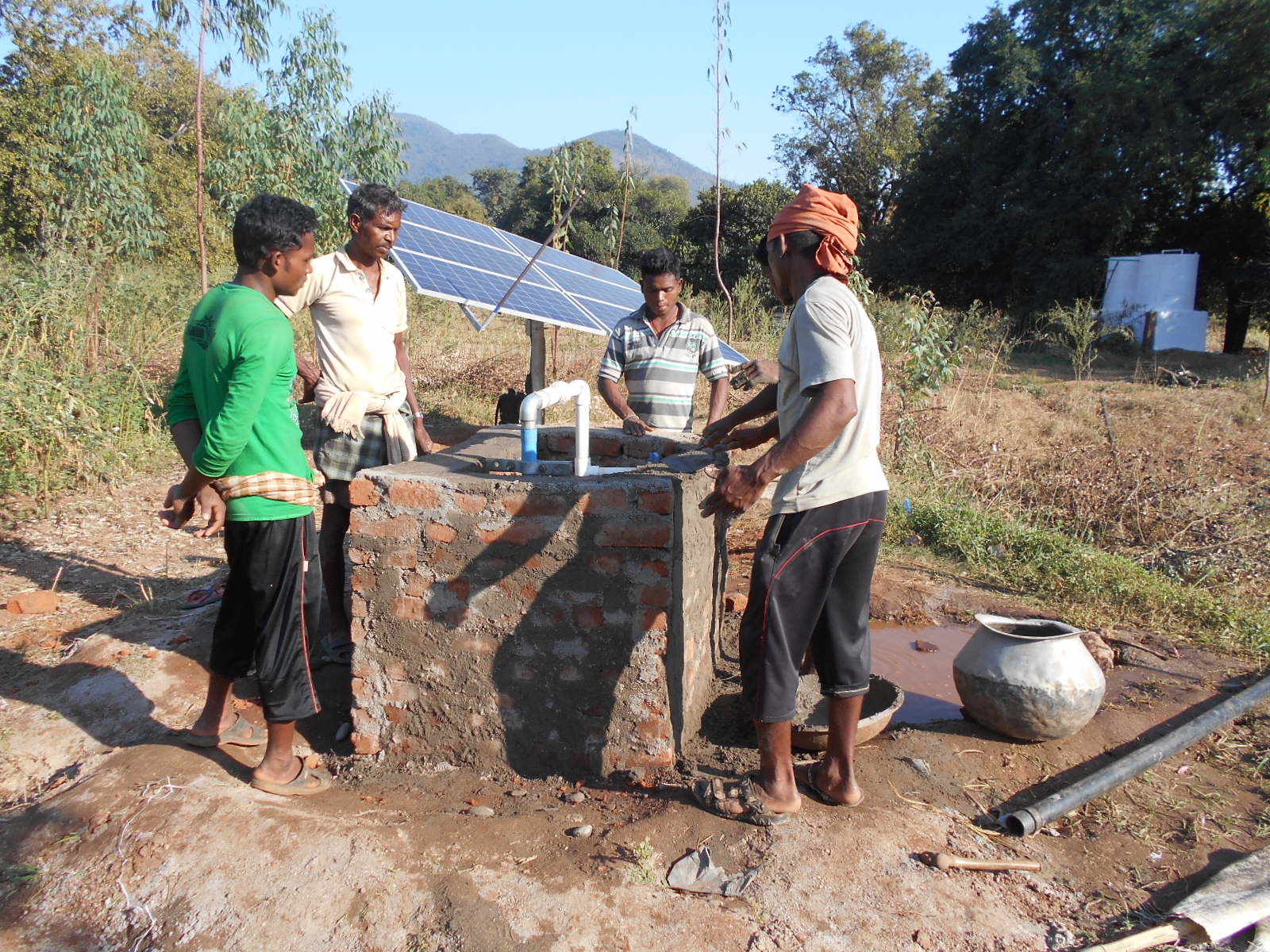 Another interesting feature of this bottom-up experiment was the actual construction.  Members from each household contributed by working for the construction of the overhead tank and piping layout. Thus each family contributed 15 man days and also helped in the 14 trips (tractor load) needed to get the boulders to make the overhead tank.  They developed a mechanism by which daily 10-12 people worked on a rotational basis.  In case a family could not participate in the work due to some reason, that family was required to pay for the substitute worker hired for the work.
The tank was constructed with a capacity of around 10,000 litres of water. Around 2550 feet were dug to accommodate the delivery pipes.  The entire work was completed in January 2016.  A 2-HP solar pump lifts around 70 thousand litres of water per day.  Around 12,000 litres of water are required for the household consumption.  Miraculously, what was backbreaking work for the women is now done in just one and half hours. The excess water is used by 12 households to cultivate tomatoes, chillies and sunflower in 1.5 acres of land.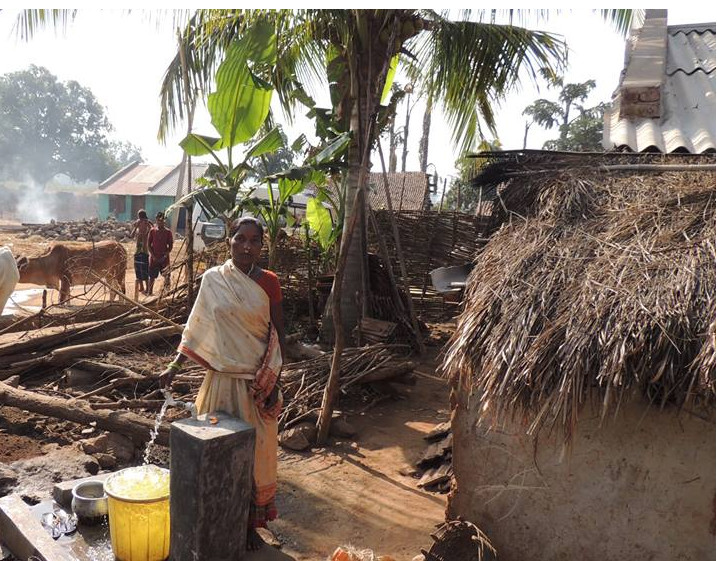 Fittingly enough, to ensure the sustainability of this project so dear to them, the women have formed a committee named "Maa Phulamati Solar Jala Sechana Prakalpa".  The main aim of this group is to take responsibility for the performance and future maintenance of the solar water supply system.
The committee is running well since 5th November 2015.  Each household deposits  Rs 30/- per month for drinking water (Re 1/- per day). To avail water for irrigation, a farmer has to contribute an amount of Rs 20 to receive a coupon that allows him to use the pumped water in the field for an hour.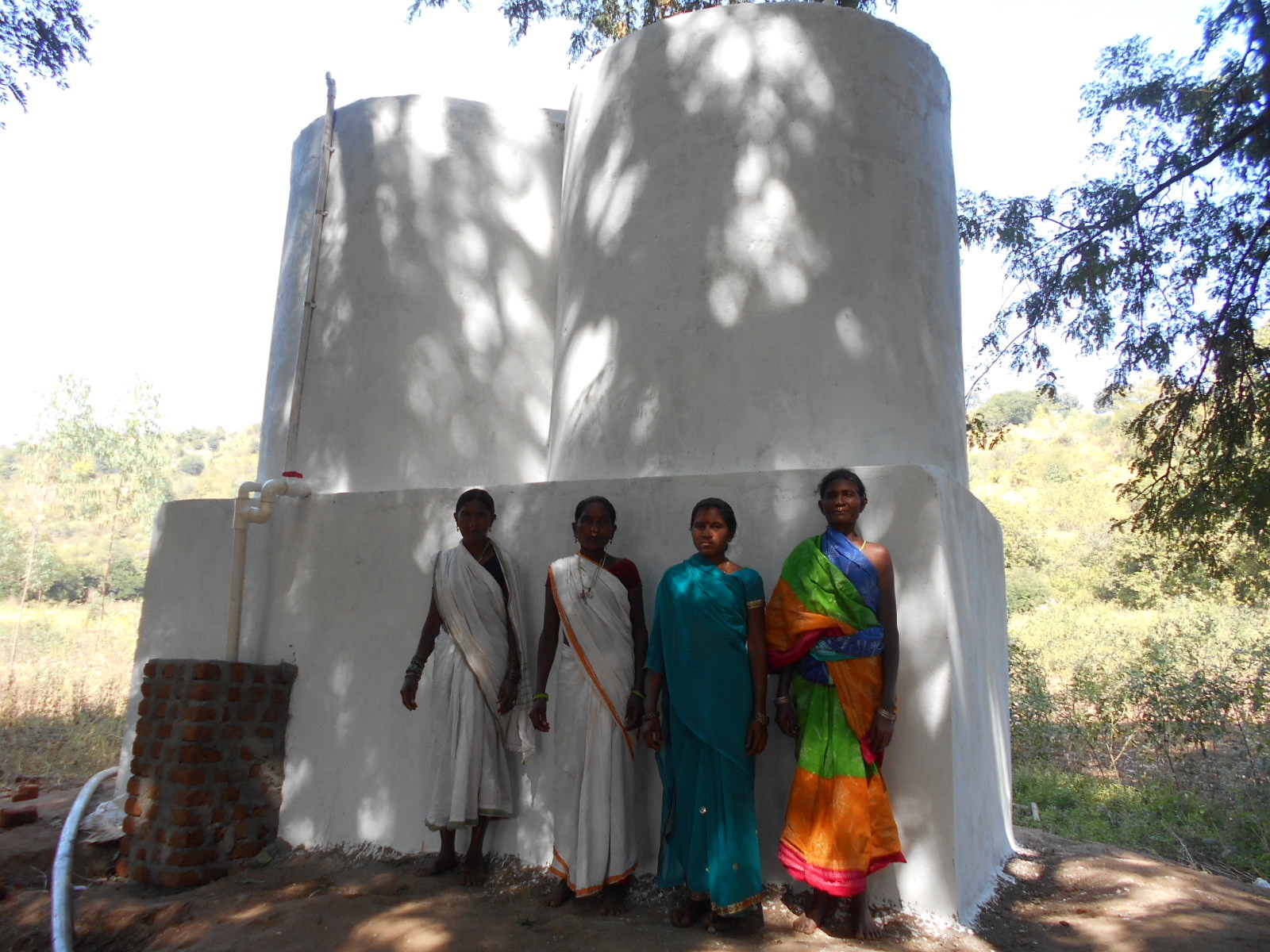 We find today, a village which had health issues, a village where its women spent a large part of their day ferrying water, a village which could not live only with its income from agriculture, now reaps multiple benefits from a simple yet much-needed device as a solar pump.  Water is readily available for the women.  As the surplus water is used for irrigation, agriculture flourishes.  Some households have also started kitchen gardens with their waste water.  Villagers are making a conscious effort for cleanliness and hygiene.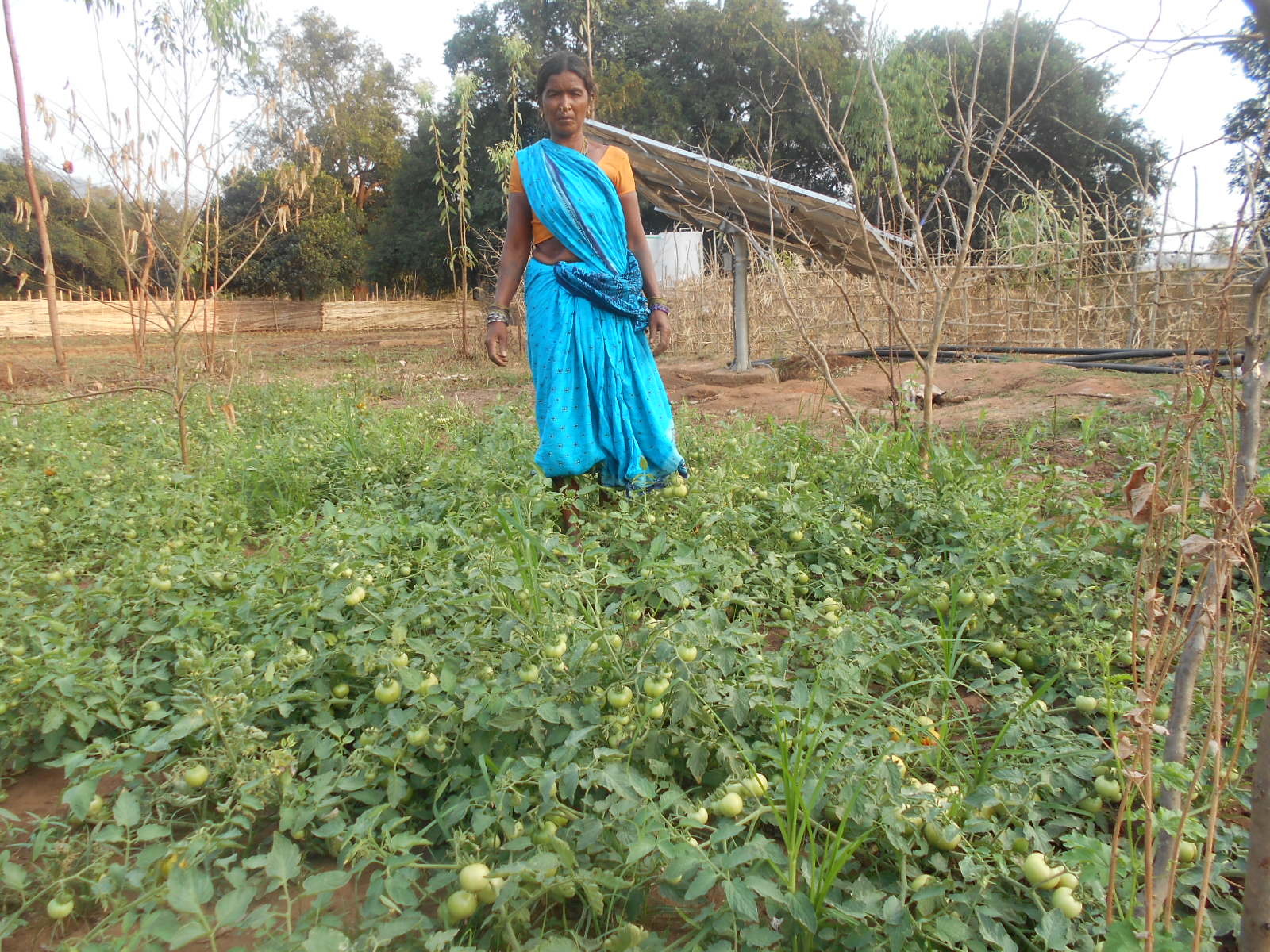 A sea change has come over the village so much so that before giving their daughters  in marriage, parents are enquiring about similar facilities in the grooms' villages.